Normally, I like the Drudgereport as a source of news, but sometimes he gets as sensationalistic as the Enquirer. Lately he's been hyping the warm winter weather in the east, but Tony Heller points out it was warmer 60 years ago.
My students usually cite the weather as evidence of climate change, and sure enough, some of them pointed to this warm Christmas as proof. As always, they don't know what the history is, and many of them don't care. They just want to believe humans are destroying the planet.
____________________________
http://realclimatescience.com/2015/12/christmas-eve-1955-was-much-warmer/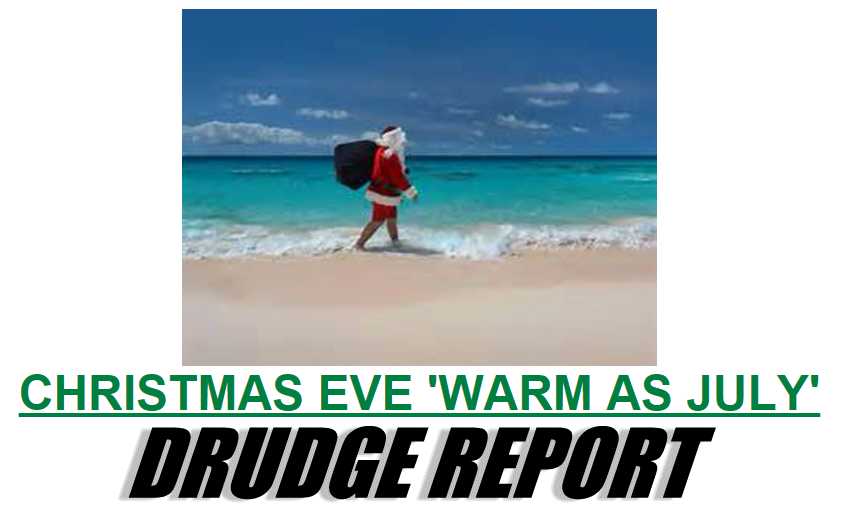 Drudge is touting the "record heat" forecast for Christmas Eve, even though most of the country will be below normal temperature. The best Drudge could come up with was 86 degrees at Orlando.

Christmas Eve 1955 was much warmer. Three fourths of the country was over 60 degrees, and Ashland Kansas, Geary Oklahoma and Encinal Texas were all over 90 degrees. Fort Lauderdale was 85 degrees. All of the stations below were over 60 degrees on Christmas Eve, 1955.

Last winter, the East Coast had record cold. That was ignored because it was "less than 1% of the Earth." But this week, the Eastern US defines the global climate.
In Irving Berlin's 1954 musical "White Christmas" – the story line was 70 degrees in New Hampshire on Christmas eve and no snow. That was why they were "Dreaming of a White Christmas"